Valentine's Day is the perfect day where you celebrate the feeling of love with your loved ones, and this celebration is incomplete without flowers. Surprise your love by delivering the mesmerizing bouquet of valentine's flowers at their doorstep.
A lovely bouquet of Red Roses: Will you be mine forever?
The very first picture that appears in our mind when we talk about love is of rose, as we have seen it everywhere that how people associate love with rose, the perfect example of it is our Bollywood movies that how an actor bend down on its one knee and proposes its partner with a single-stemmed red rose and how we enact the same moment with our partner by being aspired from them. The expression of love is incomplete with a rose that's why the valentine's week gets it ceremonial start with a rose day. Give an incredible bouquet of rose to your beloved, and express your true and passionate desire for her. For that, you don't have to visit your local florist for melting your sweeties' heart. All you have to do is to visit flaberry.com and book an enchanting bunch of joy and happiness.
A Mix Flower Bouquet: Just Stay with Me!!
Valentine's day flowers are not just limited to rose as we can try out the other varieties of flowers as well. Add different emotions to your bouquet by picking up the types of flowers. Each flower has its mixed feelings, and every sentiment is described by its distinct colour. So, you can pick the different coloured flower that beautifully describes your every emotion. A perfect valentine's day bouquet can be the combination of anthurium, daisies, rose, orchids, carnations, iris, hydrangeas and petunia.
A Mesmerizing Bouquet of carnations: Mom I Love You
We don't have to think much while picking up the romantic flowers for our beloved. But the scenario gets changed when we have to choose the flowers for our dear moms, as we have to be a little bit sophisticated while selecting the perfect flowers. What flowers would be better than a splendid bouquet of carnations?
A bunch of Tulips is All You want: You are mine
Tulips are the fantastic flowers that beautifully define the love, care and respect; you have for your loved ones. These pretty flowers are enough to leave a long-lasting impressing on the recipient's mind. There is no restriction of picking up a particular colour of flowers, as unusual myriad hued blooms will bring a smile on receiver's face.
A Luxurious Bouquet of Orchids will surely take your breath away: Oh, gosh! You are so gorgeous
How we can forget tulips while talking about the love flowers. Spellbound your soul-mate and elevate your connection that is made with a beautiful combination of friendship, passion and excitement. Also, you can plan a beautiful date with your partner and allow her to gorge on her favourite chocolates by gifting her, the assorted chocolate hamper.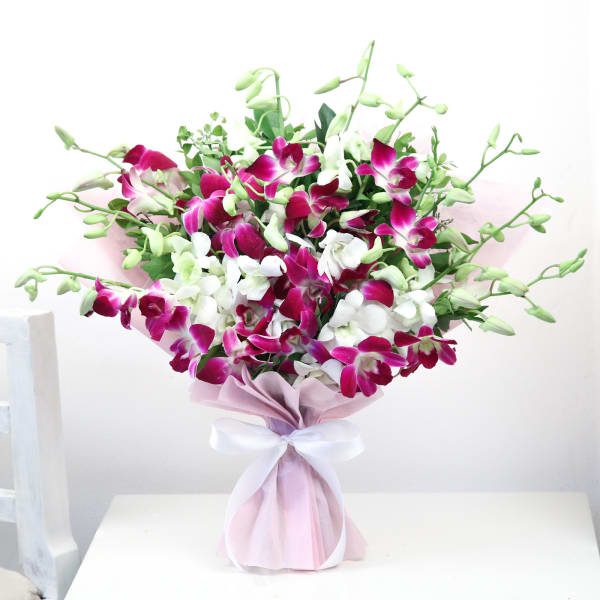 A Romantic 'Ranunculus Bunch' is All You Need: You Are Special
Ranunculus blooms serve the puree of charm and elegance for your partner. This is a perfect time, where you can fall in love all over again with your partner, and pause the time forever. The aura of tulip flowers is so powerful that it will always release its soothing effect on the recipients' mind and will create relishing memories for them.
Is Your Partner Resembles The Characters of 'Alstromeria': Add Wonders To Your Princess's Life
Alstromeria beautifully describes the feelings of friendship and devotion. If you also have a real passion for your partner in your heart, then a perfect arrangement of alstroemeria is all you need to confess your love for your partner. If flowers give words to your emotions, then its colours create an aura for it. So, a scarlet red bouquet of alstroemeria will go aptly with the occasion. The perfect blooms will perfectly depict the softer side of your partner and will make the moment most ravishing for her.